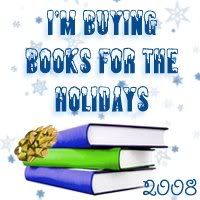 The holidays are coming and with these not great financial times, this is my overly-earnest plea for you to consider a gift that will truly leave a long lasting meaning to the people in your life. Yes, baby clothes are cute. Yes, video games are cool. But books are timeless. Books are remembered forever. Books enrich your life. They are important. And, after being alerted by
Jama Rattigan
, the book industry is
in trouble
.
As Moonrat says in
her post about supporting the book industry
:
Buy your sister a book instead of a sweater for her birthday; buy your friend who can't even make toast or boil water a beginner's cookbook; buy your company's receptionist a novel you liked because most people probably ignore him/her (it's always a her, though, isn't it?) and you'll make his/her day.

Buy your holiday gifts now. Instead of a CD for your brother, buy him a book on his favorite recording artist.

Instead of going to the library this one week buy the book you were going to read--it might only be a difference of a couple of bucks in the end. One day this week, make a peanut butter sandwich, skip going out for lunch, and buy a paperback.

Got an anniversary? Skip chocolates; fiction is sexy.

Got a non-reading friend with a birthday? Buy them a book and tell them it's high time they got over it. Or, more kindly, that you're doing it to sponsor your own future writing career. Or blame me if you must; I can take it.

It doesn't matter what. It doesn't have to be a literary fiction hardcover. If could be a $5.99 mass market nutrition guide, a $4.99 young reader chapter book, a Harlequin romance. Your money will still prevent returns of other books--literary fiction is usually the first to go--and will trickle down to the publishing companies, who will then be more likely to be able to afford to publish unprofitable literary fiction. Even if it's not by your favorite author or your favorite publishing house, your favorites will be indirectly affected.
Do you have reluctant readers on your list? Change the adjective with your gift. I firmly believe that there is at least one book for everyone that can transform. It's a different book for each person and you can find it! The bloggers at
BUY BOOKS FOR THE HOLIDAYS
would be thrilled to help you. The girls and I,
here
, would be happy to as well.
I know that this might seem self-serving considering I am an author (especially after I offered free bookplates to those who order my books) but I would not make books if I didn't consider them important (and I am honestly urging you to buy any book, not just mine!). On the aforementioned bookplate, I designed it around the Chinese proverb
A Book is like a Garden in One's Pocket.
In this cold financial climate, during this chilly holiday season, plant the seeds and let books blossom for you and the ones you care about.